Christmas is nearly here and for many of us, this is the time we start to get that Christmas present buying panic on! And if you happen to have a friend or family member who is mad about all things SUP then read on! Whatever your budget or the skill level of your gift receiver, these Christmas gift ideas may make the perfect gift and bring a smile to your favorite paddleboarder's face!

The Aqua Pack Waterproof Waist Pack $46.95
The Aqua Pack waterproof waist pack is the perfect way to carry and keep your small paddling essentials dry. Made from tough, waterproof vinyl the 3L capacity waist pack with easy to seal roll down velcro fastener also includes a Splashproof quick-access pocket and internal zippered pocket. It's compact, comfortable, and easy to access whilst afloat, this practical waist pack is available in two colors – acid green or cool blue. It's a quality piece of kit which makes the perfect accessory for any daytime cruiser or adventure paddler.

Overboard Phone Case $29.95
If you're someone who likes to take your mobile device while out paddleboarding, then the Overboard phone case is a must-have. This quality case is available in different sizes (phone, multipurpose, iPad, GPS) and is compatible with both iPhone and Android. Made from tough environmentally friendly biodegradable thermoplastic polyurethane (TPU) with an easy to use Slide Seal System, and welded seams this 100% waterproof case is guaranteed submersible to 19ft/6m taking the worry out of paddling with a phone.  Touchscreen compatible, and with a transparent front window it allows you to use all your phones features, so you can still browse, chat or snap away on the water while the phone is safely sealed in the case. It's perfect for keeping both sand and water out, it's available in blue or black


Subscription to SUPboarder Pro
Get them even more stoked on SUP with a SUPboarder Pro subscription. SUPboarder PRO is the next level of SUPboarder providing exclusive content, extended product reviews, additional how-to features, ask the experts, as well as a limited edition SUPboarder PRO t-shirt. They certainly won't be bored over Christmas! Only £24.99/year or £2.49/month. To guarantee t-shirt delivery before Christmas last orders are the 20th Dec for the UK and the 14th Dec for Europe/Worldwide orders. Find out more about SUPboarder Pro here.
 
The SUP Movie $24.95
The SUP movie is an all-action 40 minute SUP film with plenty of big drops, bad ass barrels, insane airs and amazing wipeouts! Featuring many riders incl Kai Lenny, Not Gisela, Kody Kerbox, Zane Schweitzer, Connor Baxter, Sean Pointer, Izzi Gomez, Lori Park, and Mo Freitas in top spots around the globe.This 90 % surf movie is a must-see for any SUP mad surfer. Watching Kai and mates rip the stuffing out of great waves around the world will be sure to make them a tad jealous and get the travel urge again.
At $24.99 (but now majorly reduced in many stores as available to download online for free) it's the perfect stocking filler for someone who still likes watching movies that come in their own box!
GeoSUP – The Stand-Up Paddleboarding App $4.99
GeoSUP – The Stand-Up Paddleboarding App for every paddler across the globe. A newly released SUP mobile app that not only allows paddlers to track their SUP activity but also allows them to share their sessions with others creating a global searchable SUP spot guide. The perfect training tool, paddle diary and much much more. If they haven't already got it, gift the GeoSUP App via the App Store. Read more about GeoSUP here.
GoPro Paddle Mount $16.99
For great shots of your friends or selfy shot, the GoPro Paddle Mount (also known as a bike mount) is the SUPboarders' go to mount for filming all SUP action from the water. It's very lightweight but strong enough to take a beating. This is a must-have camera mount, for every paddler wanting to catch the action.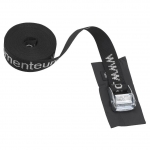 Palm's Heavy Duty Cam Straps $29.99
We've all done it… tied our shiny new board on the roof of the car on Christmas day with rusty and frayed roof rack straps! So why not treat the SUPer in your family to some shiny new ones. Palm's Heavy Duty Cam Straps are ideal to ensure their new shiny board gets to the beach in one piece. The 7m long pair of cam straps are made from heavy duty 35mm polypropylene webbing and non-corroding galvanized cam buckles with neoprene protection.  Worth every penny at $29.99 (and much cheaper than a new board!) Paddleboarders can never have enough roof rack straps! The SUPboarder team included! (why can you never find them when you want them!)
Gift them with a Lesson
How about giving the gift of a  lesson for .your friend or family member? It's a great gift especially if they're new to the sport and had been thinking of giving it a try!
Hopefully, these ideas will help you to breathe a sigh of relief and take off some of the pressure of finding the perfect gift.